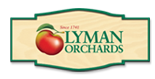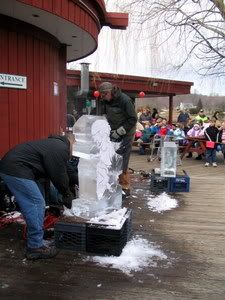 Winterfest ~ Food Expo ~ Snow & Ice Sculptures at Lyman Orchards
We New Englanders really enjoy making the most of a long winter season, especially when we have no control over the elements!
After everyone's done celebrating Groundhog Day, keep those hats, mittens and scarfs at hand; mark your calendar and plug in the coordinates on the GPS for Winterfest Weekend at Lyman Orchards!
My family has always enjoyed visiting Lyman Orchards since our daughters were babies, and now we have the opportunity to bring along our charming son-in-law, and of course, the grandkiddos!
Sat. & Sun., February 21 and 22, 2009
Come celebrate the fun side of winter! Hours of indoor and outdoor family fun include our annual Food Expo, Snow & Sculptures provided by Bill Covitz, Rail Jam by Ski Sundown, Pony Rides, and more!

Watch as the Connecticut Valley Siberian Husky Club performs mushing demonstrations!

If you're still hungry after all the free samples, feast on a great sandwich or salad from our Deli, or warm up with a good cup of our homemade soup.
Lyman Orchards is at the junction of Routes 147 and 157, Middlefield, CT.
The family orchards date back to 1741 and cover approximately 1,100 acres, harvesting acres of apples, berries, peaches, pears and pumpkins.
Each season features a unique celebration.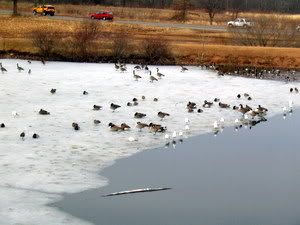 Lyman Orchards also boasts a golf course and club, along with the state's largest indoor farm market, the "Apple Barrel Farm Market" which is open year-round. Tempting cider, cider doughnuts, freshly baked pies, bakery goods, preserves, vinegars, salsas, apple sauce and condiments will keep you salivating!
Check out their continually changing Calendar for other special events: Easter apple hunt; summer music festival; food expo; baking contests, and of course, the upcoming Winterfest Celebration:
For More Information:
(800) 349-6015 or (860) 349-1798
http://www.lymanorchards.com/events/winter.shtml
Cindi is the author of Moomettesgram's Musings for WAHM tips, Moomette's Magnificents Reviews, and Mama Mentor for personal musings and observations of a Baby Boomer Wife, Mom & Grandmother from New England. She is also the Editor of Timeless Bliss. Follow Moomettesgram on Twitter.